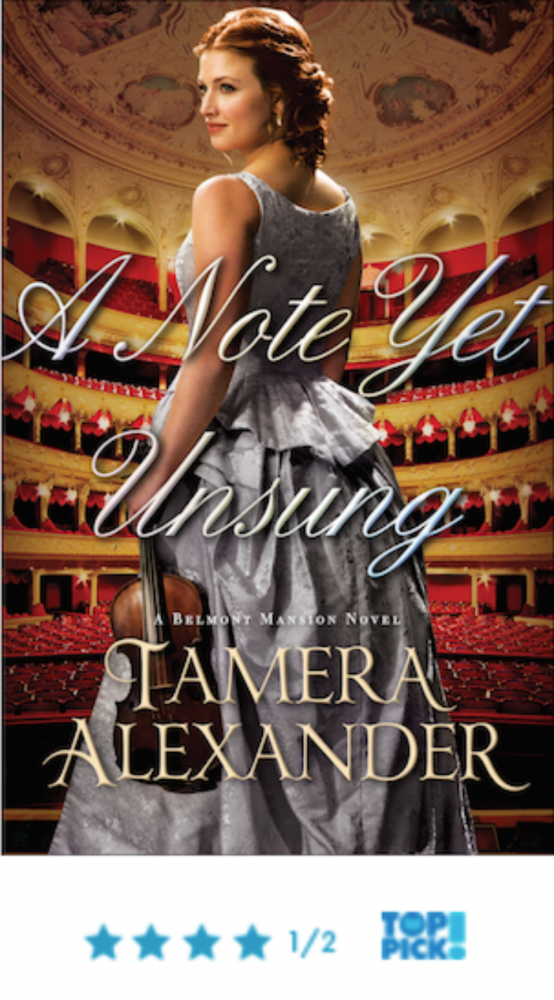 Belmont Mansion Novels, Book 3
#1 CBA Bestseller
2017 Christy Award Finalist
VISIT BELMONT MANSION NOVELS PAGE
A master violinist trained i
n
Vienna
,

Rebekah

Carrington

manages

to wheedle her way

into

an

audition

with

the
maestro
at
the
newly
formed Nashville Philharmonic.
But women are "far too fragile and frail" for the rigors of an orchestra, and Rebekah's hopes are swiftly dashed because the conductor—determined to leave his mark on the world of classical music—bows to public opinion. To make matters worse,
Adelicia Acklen Cheatham, mistress of Belmont Mansion and Rebekah's new employer, agrees with him.
Nationally acclaimed conductor Nathaniel Tate Whitcomb is Nashville's new orchestra leader. And despite a reluctant muse—and a strange buzzing and recurring pain in his head—he must finish composing his symphony before the grand opening of the city's new opera hall. But far more pressing, he must finish it for the one who first inspired his love of music—his father, who is dying.
As Tate's ailment worsens, he believes Rebekah can help him finish his symphony. But how do you win back a woman's trust when you've robbed her of her dream?
As music moves us to tears yet makes our hearts soar,
A Note Yet Unsung
captures the splendor of classical music at a time when women's hard-won strides in cultural issues changed not only world history—but the hearts of men.
---
Praise for A Note Yet Unsung:
#1 CBA Bestseller
2017 Christy Award Finalist
Booklist Starred Review
Publishers Weekly Starred Review
Library Journal Starred Review
Romantic Times Starred Review
"This fast-moving work of inspirational historical romance highlights both classical and Appalachian music. Thanks to Alexander's vivid writing, one can almost hear the music resonating off of the page."
"It's 1871, and violin virtuoso Rebekah Carrington has just returned from Vienna after ten years of study with the masters. Although she has an extraordinary talent, the Nashville Philharmonic won't accept her as a member because she is, after all, a woman. Suffering from increasingly debilitating headaches, conductor Nathaniel Tate Whitcomb sees Rebekah as just one more stress in his life. Yes, she is the most talented violinist he's ever heard, but women have no place in an orchestra. Then Tate becomes so ill he can't finish transcribing the music he hears in his head. Since he's determined to finish his symphony before his ailing father dies, he reluctantly hires Rebekah as his assistant. But Tate has many secrets, as does Rebekah, hidden truths that made her the strong woman she is. Alexander is an inspirational fiction star. Her novels possess a lyricism that draws the reader in, and keeps them close. As Alexander brings her superb Southern Belmont Mansion series (A Beauty So Rare, 2014) to an end, readers will remember Alexander's well-crafted, multi-dimensional characters, especially Rebekah and Tate, long after this tale is finished.
~ Booklist starred review (Shelley Mosley)
"Violinist Rebekah Carrington scores an audition for a position with the Nashville Philharmonic. Unfortunately, in 1871, female musicians are frowned upon because of their "inability" to handle the "rigorous" work. No amount of cajoling can persuade either the conductor, Nathaniel Whitcomb, or Rebekah's new employer, Mrs. Cheatham, the mistress of Belmont Mansion. Devastated at Whitcomb's refusal to let her play, Rebekah is less than pleased when he asks her to help him finish a symphony he's writing for his ailing father. However, neither Nathaniel or Rebekah can deny the growing attraction between them. Featuring a swoon-worthy courtship, this delightful historical also offers a vivid portrait of a lesser-known chapter in the 19th century classical music scene. This final entry of Alexander's historical romantic trilogy will leave devotees on a high note!"
~ Library Journal
Alexander tackles issues that have been long forgotten about and brings them back to life using historical figures and facts. The characters in this story are never boring and instead are more like treasured friends than fictional people. They are charming, caring and determined to leave their mark on the world. The female lead, Rebekah Carrington, is a great violinist and faces the hardest challenges with grace and style. It was unheard of for women to be hired in orchestras in the 1870s, as they were perceived as frail and too fragile to handle the demands.
~ Romantic Times 4 1/2 star TOP PICK! (Patsy Glans)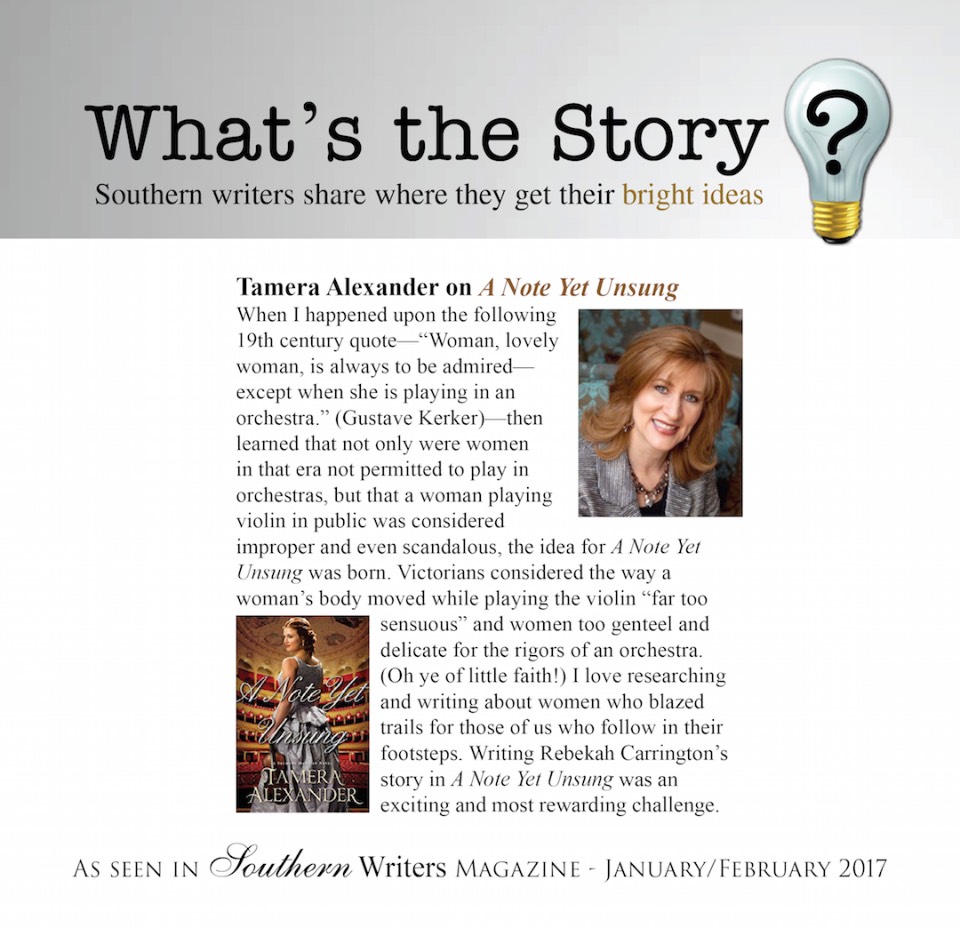 (Click the dots above to move the pics backwards or forwards)
© 2016 Tamera Alexander.
All rights reserved.

Tamera Alexander
P.O. Box 871
Brentwood, TN 37024