Christmas at Carnton
introduces a new three-book series—
The Carnton Novels
—set against the real history of Carnton Plantation in Franklin, Tennessee.
#1 Amazon Bestseller
ECPA TOP 5 Bestseller
2018 Carol Award WINNER
2018 Holt Medallion Finalist
Amid war and the fading dream of the Confederacy, a wounded soldier and a destitute widow discover the true meaning of Christmas—and of sacrificial love.
Recently widowed, Aletta Prescott struggles to hold life together for herself and her six-year old son. With the bank threatening to evict, she discovers an advertisement for the Women's Relief Society auction and applies for a position—only to discover it's been filled. Then a chance meeting with a wounded soldier offers another opportunity—and friendship. But can Aletta trust this man?

Captain Jake Winston, a revered Confederate sharpshooter, suffered a head wound at the Battle of Chickamauga. When doctors deliver their diagnosis, Jake fears losing not only his greatest skill but his very identity. As he heals, Jake is ordered to assist with a local Women's Relief Society auction. He respectfully objects. Kowtowing to a bunch of "crinolines" isn't his idea of soldiering. But orders are orders, and he soon discovers this group of ladies—one, in particular—is far more than he bargained for.
Set against the backdrop and history of the Carnton Plantation in Franklin, Tennessee, Christmas at Carnton is a story of hope renewed and faith restored at Christmas.
Praise for Christmas at Carnton:


"I thoroughly enjoyed
Christmas at Carnton
! Tamera Alexander conveys the heartache and hardship of being a widow during the Civil War era, even as she invites us to take a deep breath, relax, and become absorbed in Jake and Aletta's journey.
T
his tender love story between two wounded people whom God brings together for he
aling is a book readers will enjoy anytime—but especially at Christmas!"
~
Francine Rivers
,
New York Times
bestselling author of
Redeeming Love
and
A Voice in the Wind
"
Alexander intertwines love, war's cruelties, disabilities, and perseverance in a way that captivates readers.
Her well-developed characters and attention to historical detail sweep readers back to the American Civil War..."
"
Alexander simply knows how to tell a lovely, heartwarming story that is good for the soul..

.
The characters are well-developed, and the story and the history is so well done and woven together. Dealing with grief, loss, and the unknown, will often bring one to question the world and look for answers. Alexander weaves this into the story in a magical way."
~ Fallon Willoughby, Bowling Green DAILY NEWS
"

Alexander brings us yet another amazing read.
If you have read her before, this novel does not disappoint…The reader will be sucked into this page-turner and experience the emotion that the characters are feeling. You won't want to miss this novella."
~ Romantic Times, 4 STAR Review
"With heartwarming humor, romance (and recipes) to savor, Tamera Alexander delivers a sweet, second-chance love story between a widow and a wounded soldier.
A wonderful Christmas gift for readers everywhere!

"
~
Julie Klassen
, bestselling author of
The Ladies of Ivy Cottage
"This book is a great reminder to me of why we need to read stories and not just history. Stories flesh out history and help one really feel what it must have been like to be pregnant or have small children, a dead husband, and about to be turned out of your home...
This book made me see various aspects of the Civil War in a new way. I appreciated that. I would highly recommend it."
~ Doreen, NetGalley Reviewer
---
Disclosure of Material Connection: As an Amazon Associate, Tamera earns from
qualifying
purchases. Some of the links on this site are "affiliate links." Meaning that, at no additional cost to you, Tamera may earn a commission if you click through and make a purchase. We're
disclosing this in accordance with the Federal Trade Commission's
16 CFR, Part 255

:
"Guides Concerning the Use of Endorsements and Testimonials in Advertising."
---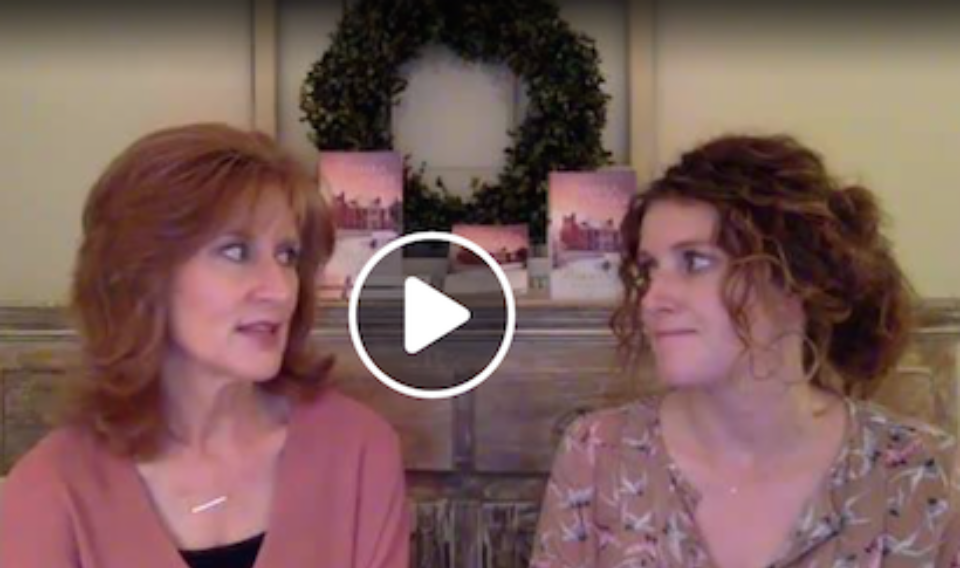 Facebook LIVE chat party for Christmas at Carnton's release (with my daughter Kelsey)
This picture pretty up sums up the comedy of errors the evening turned out to be—but what fun you all were! Thanks for joining us!

Content Copyright © 2022 Tamera Alexander
All rights reserved