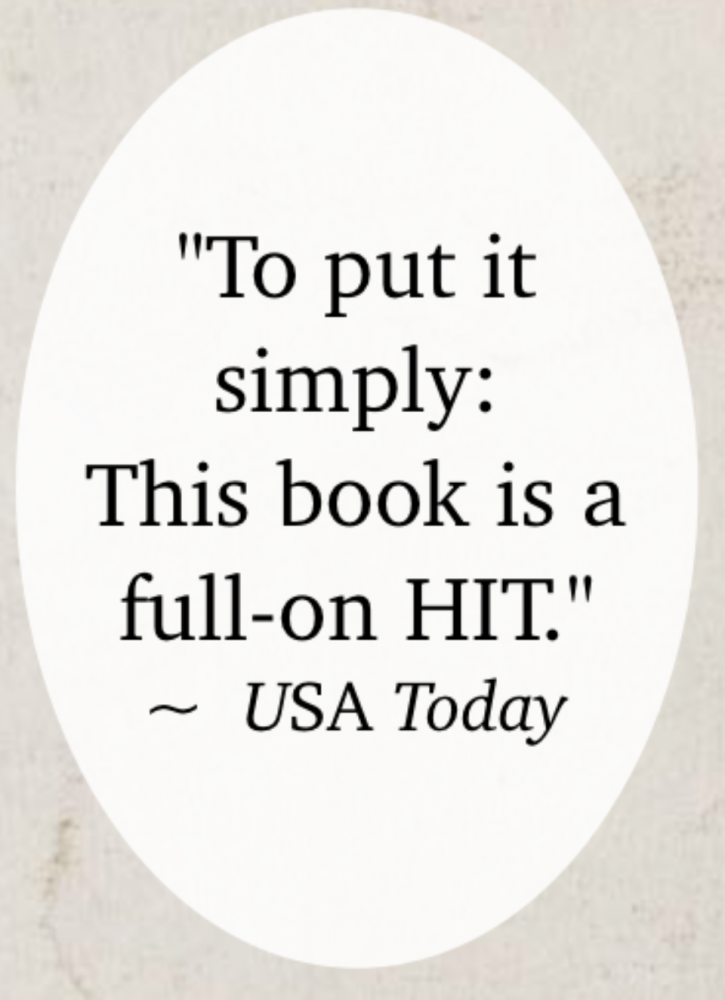 Belmont Mansion Novels, Book 1
2012 Christy Award finalist
From Christy and RITA Award-winning author Tamera Alexander comes a bestselling novel about authenticity, and the difference between knowing who you are—and knowing who you want to become.
Claire Laurent's greatest aspiration is to paint something that will bring her acclaim. Yet her father insists she work as a copyist. A forger. When she's forced to flee from New Orleans to Nashville only a year after the War Between the States has ended, her path collides with attorney Sutton Monroe. She considers him a godsend for not turning her in to the authorities. But after he later refuses to come to her aid, Claire fears she's sorely misjudged the man. Finding herself among the elite of Nashville's society, Claire believes her dream to create a lasting impression in the world of art is within reach—but only if her fraudulent past remains hidden.
The Federal Army has destroyed Sutton's home and confiscated his land, and threatens to destroy his family's honor. His determination to reclaim what belongs to him and to right a grievous wrong reveals a truth that may cost him more than he ever imagined—as well as the woman he loves.
Set at Nashville's historic Belmont Mansion, a stunning antebellum manor built by Mrs. Adelicia Acklen, A Lasting Impression is a sweeping love story about a nation mending after war, the redemption of those wounded, and the courage of a man and woman to see themselves—and each other—for who they truly are.
---
Praise for A Lasting Impression
CBA and ECPA Bestseller
2012 Christy Award finalist
"To put it simply: This book is a full-on HIT."
— USA Today review

"Rich in period details and set in Nashville's historic Belmont Mansion, this historical romance by RITA and Christy Award winner Alexander is a sure bet..."
— Library Journal Review
"Tamera Alexander has once again written a novel rich in storytelling and history, peopled with living, breathing characters who made me laugh, and cry. Better than sweet tea on a veranda,
A Lasting Impression
is a winner. I want to live at Belmont!"
—Francine Rivers,
New York Times
best-selling author of
Redeeming Love
"Tamera Alexander paints vivid scenes, not with oils on canvas but with words on the page, as she sweeps us away to the cafes of New Orleans and the hills of Tennessee. In Claire Laurent we find a true artist, ever doubting her talents, ever questioning her calling. And in Sutton Monroe we meet a hero whose bright mind is eclipsed only by his tender heart. A lovely story, sure to please anyone who treasures a good romance."
—Liz Curtis Higgs,
New York Times
best-selling author of
Mine Is the Night
"
A Lasting Impression
is a wonderful start to a new series. With writing that is rich and textured, Ms. Alexander paints a portrait of Belmont and Nashville after the Civil War that will pull you in and almost make you believe that you are living there yourself."
—Robin Lee Hatcher, best-selling author of
Belonging
"Beautifully written and brimming with "real life" history,
A Lasting Impression
captures a slice of American history, and an era the South will not soon forget. Nor should we. As Director of the Belmont Mansion, I highly endorse
A Lasting Impression
and invite you to visit the home of Mrs. Adelicia Acklen to see, in person, the beauty and elegance that defines both Adelicia's home, and this novel."
—Mark Brown, Executive Director, Belmont Mansion, Nashville, Tennessee
Favorite reader quotes from A Lasting Impression
(sent to me by reader friends)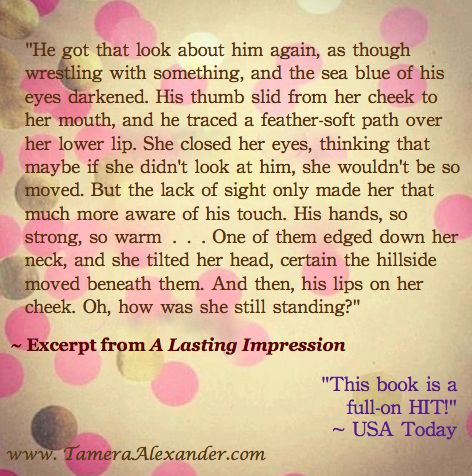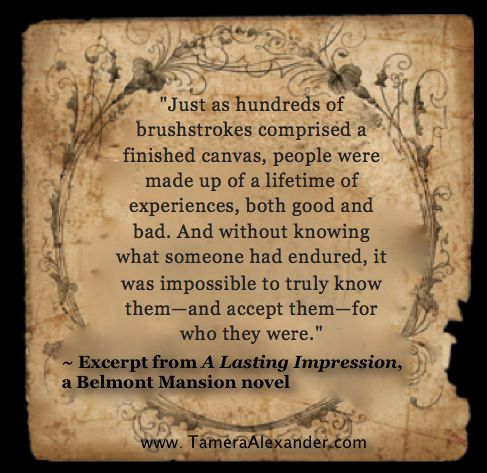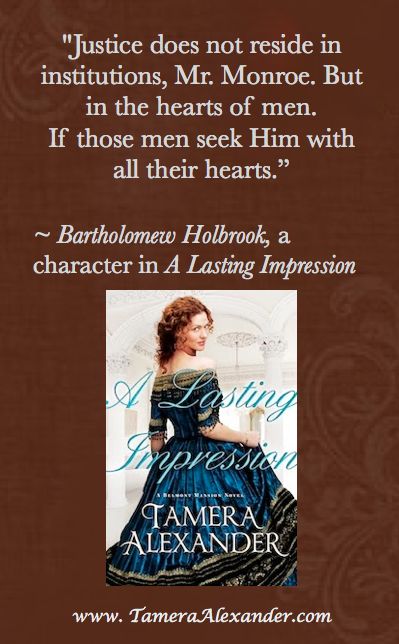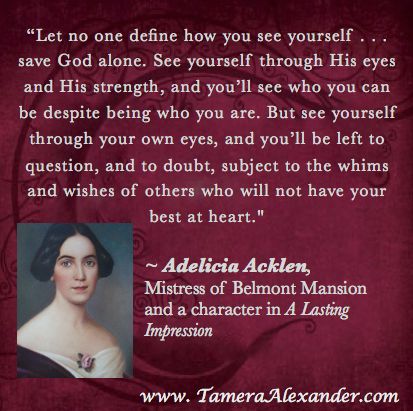 Content Copyright © 2022 Tamera Alexander
All rights reserved