Miss Clara's Peach Cobbler
(As featured in
Beyond This Moment
, Timber Ridge Reflections, book 2)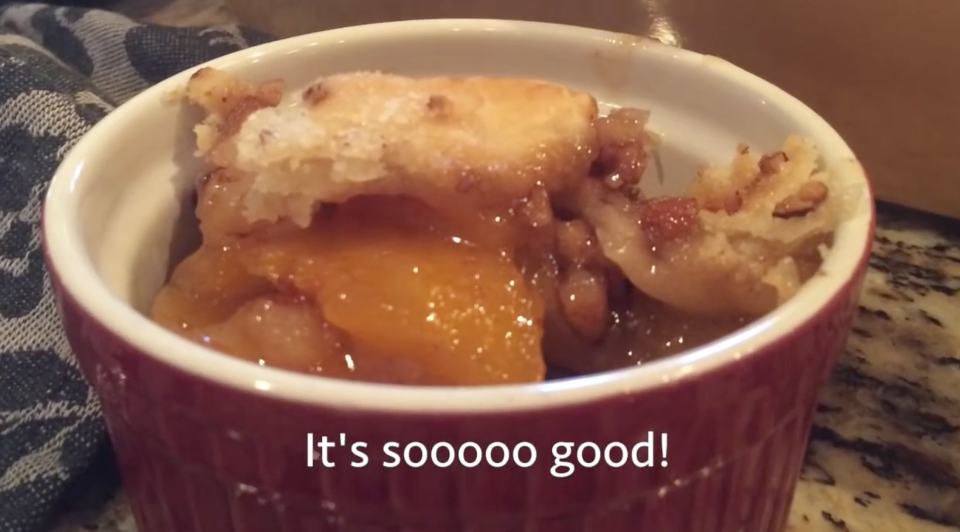 Ingredients:
4 cups peeled and sliced fresh peaches (OR you may use a 29 ounce can of sliced peaches, using only 1 T of lemon juice, and omit the ½ cup of sugar over peaches)
2 T. lemon juice
½ cup sugar
½ t. cinnamon
1 cup milk
1 cup Self Rising flour
1 cup sugar
1 stick butter or margarine
Preheat oven to 350 degrees. Melt stick of butter in oven-safe casserole dish in oven, being careful not to burn. Meanwhile, pour the two T. lemon juice over the peaches. Stir to coat.
Pour 1/2 cup sugar over peaches (remember omit this if you're using canned peaches). Stir. Heat in microwave for 1 minute so that sugar begins to melt.
Mix together 1 cup flour, 1 cup sugar, and cinnamon until blended. Pour in 1 cup milk and mix until blended. After butter is melted, take casserole out of oven and pour batter on top of melted butter. Pour peaches on top of batter. DO NOT STIR!
Sprinkle a tablespoon of sugar over pie. Place in 350 oven and cook for 55 minutes or until golden. Enjoy!
Content Copyright © 2021 Tamera Alexander
All rights reserved