Cordina's Tennessee Tea Cakes
(As featured in A Lasting Impression, a Belmont Mansion novel, book 1, and also in the other Belmont Mansion novels)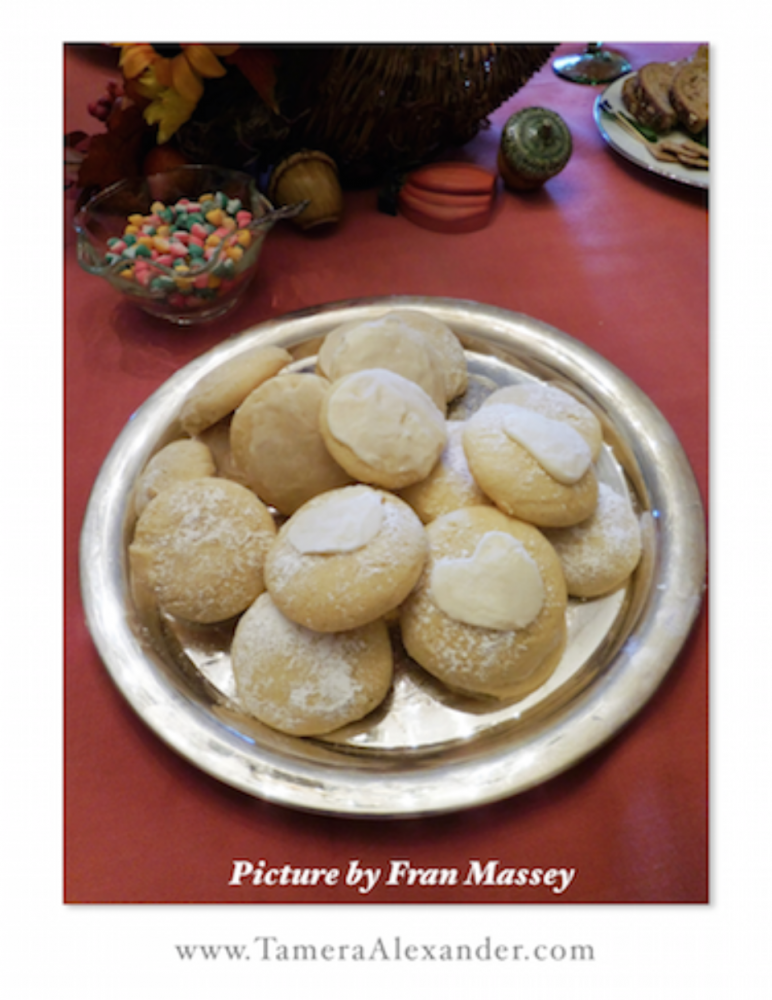 1 Cup butter or margarine

1 Cup sugar

3 eggs

3 1/2 Cup self rising flour

1 teaspoon vanilla
Cream butter and sugar. Add eggs and mix again. Add vanilla and flour and mix well. Roll thin (on floured board, cut with cookie or biscuit cutter. Bake at 350 for ten minutes. Don't overcook! Sprinkle with sugar while warm or ice with simple icing. Or, like a beignet, cover with powdered sugar while warm.
Note: If you want more cake-like cookies, roll thicker, about ½ inch in thickness. The thinner the dough, the more like crisp cookies they'll be.
Simple Icing
2 Tablespoon softened butter or margarine

1/2 Cup Confectioner's sugar

2 Tablespoons milk (can add another if needed)

1 teaspoon vanilla

Few drops food coloring, if desired
Cut butter into confectioner's sugar. Add milk and stir until lumps are gone. Add one teaspoon of vanilla and a few drops of food coloring, stir until combined. Spoon onto cookies or tea cakes and spread with back of spoon. Top with sprinkles while still wet, if desired. Let dry before stacking.
Content Copyright © 2021 Tamera Alexander
All rights reserved